As any nautical enthusiast in Jacksonville will tell you, a proper boat lift is an essential component of nearly every dock structure. In surrounding Florida towns such as St. Augustine and St. Johns, this is especially true, which is why Yelton Construction prides itself on being one of the only top-rated marine contractors in the area to specialize in boat lift installations.
Even a beginner-level boater can benefit from and appreciate the value of a quality boat lift, but if you're not terribly familiar with the varieties and variations between styles of these marine construction builds, then you might get stuck choosing the wrong one. In this article from Yelton Construction, we'll review the most common types of boat lifts so that you can make an informed decision about which one may be right for you and your watercraft.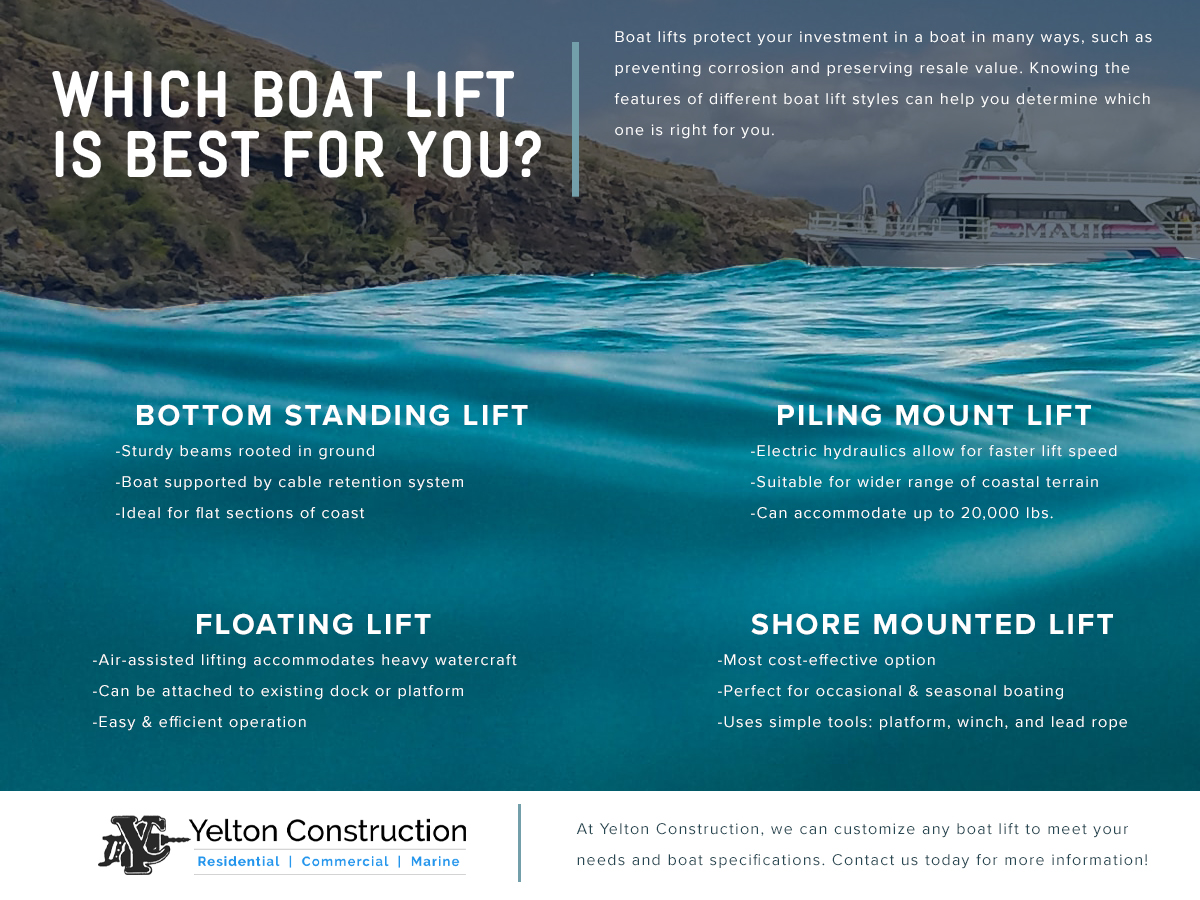 Why Use A Boat Lift?
Boat lifts serve a number of important functions in the preservation and maintenance of your boat. If you dock a boat on the water, it's extremely likely to sink within a short period of time; boat lifts prevent this from happening by providing a way for you to store your vessel out of the water when it's not in use.
Boat lifts also assist in the general cleanliness of your watercraft. Rather than getting bombarded by barnacles and corrosion, a lifted boat is protected from the natural elements of surrounding seawater. And as many boat owners know all too well, the resale value of a watercraft diminishes significantly if its hull and drive functionality aren't kept in pristine condition, so if you ever hope to trade up your boat for a newer model, you'll want to keep its body looking good as new — and that means keeping it away from the waves as much as possible.
Most Common Types of Boat Lifts
At Yelton Construction, we work with a number of different products and business partners to provide top-of-the-line boat lift installations and repairs so your marine property stays up-to-code and well maintained. Our line of DECO boat lifts are usually the most popular among our clients, and they make an excellent point of reference when discussing categories of various marine construction products. Based on our observations of client purchasing preferences, combined with our personal and professional experience, we've seen that the four most common types of boat lifts are: 
Bottom Standing Lifts

Piling Mount Lifts

Floating Lifts

Shore Mounted Lifts
Bottom Standing Lifts
A bottom standing lift is what generally comes to mind when the average person thinks of a boating dock. These structures consist of a lifted platform with a variable number of legs, each of which are driven into the ground or silt underneath a shallow depth of water (typically no more than two to nine feet). These kinds of boat lifts are best suited for sections of coastline with a flat bottom that can accommodate equal weight distribution and even placement of the elevation beams. 
Piling Mount Lifts
If you don't have access to flat-bottomed areas on your property, you can still support a sturdy boat lift by opting for a piling mount lift. Because it is more technical to construct, piling mount lifts tend to cost a bit more than a bottom-standing or shore-mounted alternative, and many require electricity to remain in operation. However, when it comes to keeping their craft in ideal condition, most boat owners believe that these kinds of boat lifts are well worth the investment. 
Floating Lifts
This boat lift style is attached directly to an existing dock or piling foundation and acts as a floating cradle for watercraft. The boat sits on a base of air-filled chambers (made out of either metal or heavy-duty plastic) which float on the surface of the water rather than making direct contact with the bottom of the shallows. At Yelton Construction, we recommend this style for marine areas where water levels are subject to significant fluctuation and tide shifts. Like piling mount lifts, this formulation is also often electrically powered, and it will require regular maintenance to ensure that excessive algae growth doesn't overpower the motor. 
Shore Mounted Lifts
One of the most cost-effective and easy-to-install options, a shore mounted lift is precisely what its name suggests. These structures consist of a ramp that follows a softly sloping section of the shore that recedes from the waterline. With the aid of a winch and bow-attached pull line, the boat is hoisted out of the water and up onto the deck of the ramp. With low maintenance requirements and affordable pricing options, the shore mounted lift is an excellent choice for those new to the world of boating, those who don't get on the water very often, and/or those on a budget. 
Which Boat Lift Is Right For You?
This article on types of boat lifts is by no means exhaustive, and there are dozens if not hundreds of other varieties you may consider before any installation takes place. To figure out which kind of boat lift is right for you, it's important to understand the structure, slope, and elevation of your marine property so you know what types of builds it can and cannot accommodate. 
Get started on the path to the perfect boat lift by contacting Yelton Construction today! Our team of professional marine contractors have the experience and the expertise to determine precisely which style of seaside structure is best suited for your boat, your budget, and your personal preferences. Give us a call and we'll be happy to give you more information on our design options, payment plans, and specific product details from our extensive list of trusted brands. We provide boat lift solutions for residential and commercial properties alike, so if you're seeking a reliable marine contractor to tackle your next marine project, look no further than our team of experts in St. Augustine.