Whether your company specializes in boats, yachts, pontoons, jet skis, or another type of marine vessel, it's vital that you have the proper boat lift to protect your equipment. At Yelton Construction, we've been providing the Northeast Florida and St. Augustine communities with top-of-the-line boat lift products and services. Keep your fleet protected, cost-effective, and efficient by taking advantage of our commercial boat lifts today!
Learn more about the specific uses and advantages of boat lifts below!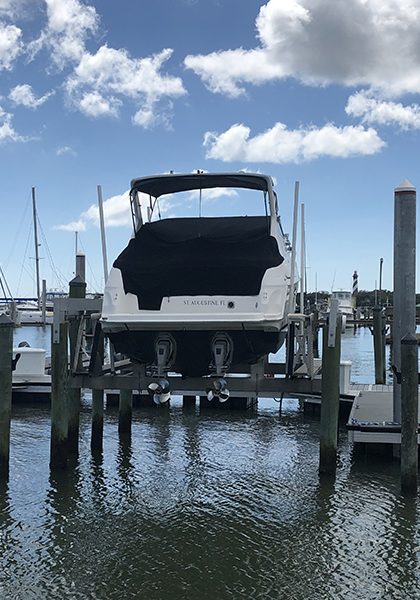 Freestanding Boat Lifts
Freestanding boat lifts are ideal for shallower areas of water, usually no more than three to 10 feet in depth. In many marinas in Florida, the sand can be silty or powdery, so you need a boat lift that can accommodate this difficult terrain. Thanks to its sturdy, fixed structure and firmly rooted foundations, you'll keep your marine fleets safely docked and safe from erosion. Call now to learn more about our selection of freestanding boat lifts!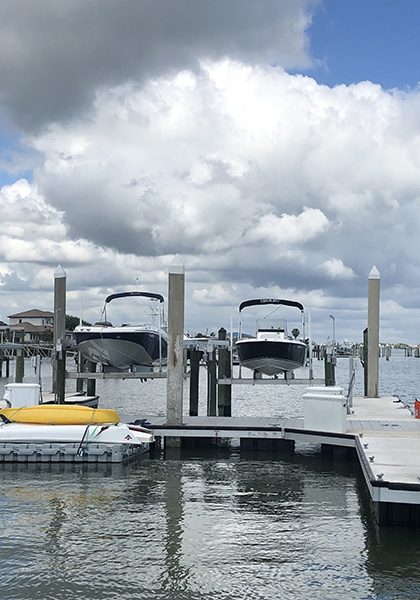 Floating Boat Lifts
In the northeastern region of Florida, our waters can get a bit tumultuous at times. Whether it's a natural shift in seasonal tides or a full-fledged tropical storm, commercial boats and marine vessels have to be prepared for whatever the sea brings your way.
Floating lifts are ideal for fluctuating water levels because they are designed to accommodate shifts in the rise and fall of the tides. Thanks to its adaptable structure, these boat lifts can move in tandem with capricious tides and winds without compromising the integrity of the lift or the boat that it holds. Some structures even support vehicles, so you can drive up, load your fleet, and get back to enjoying the waves in a timely manner.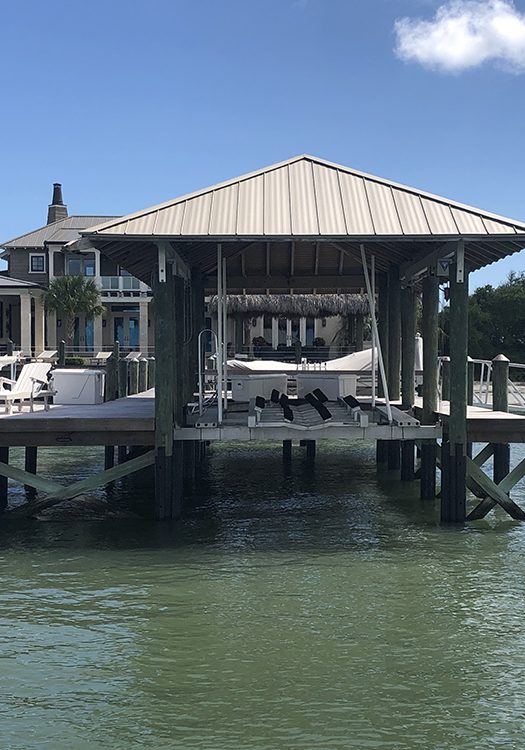 Suspended Boat Lifts
The best option for heavy-duty fleets in high-exposure zones, suspended boat lifts are perfect for those commercial owners who need a great degree of protection. If you already have your boats or vessels in a constantly covered structure, a suspended lift could be the supplementary tool you're missing in the efforts to elongate your boat's lifespan. When you choose a suspended boat lift, also called a hanging cradle boat lift, you can expect extreme durability and efficacy in protection against the elements. Thanks to its structural incorporation of galvanized steel, high-capacity motors, and metal-reinforced cradles, your suspended boat lift will never let you down.
Rain or shine, Yelton Construction has the boat lifts you need to keep your pontoons, jet skis, PWCs and more in their best condition for years to come. Call now to learn more about our fantastic selection of commercial boat lifts.
Yelton Construction has been serving the St. Augustine area for more than three decades with state-of-the-industry services and materials. Our quality work and designs in boat lifts, barges, and more are expertly tailored to ensure that we bring your marina construction project to life in the way that you envisioned it — every time and with every undertaking.